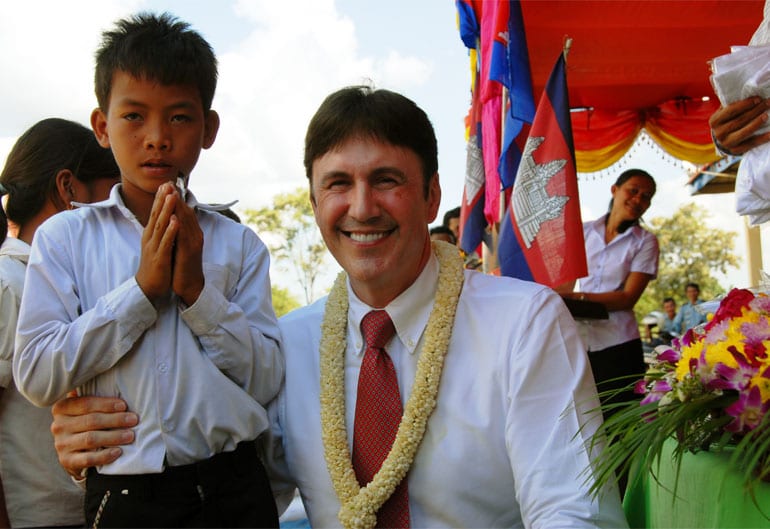 Dear Friends and Family:
I write to introduce you to the meaningful work the Teach Them To Fish Foundation is doing by building schools in Cambodia and building schools in Uganda and the global impact our work has on the lives of tens of thousands of orphaned and disadvantaged children who did not have schools to attend while emphasizing the importance of educating young girls at risk for human trafficking, who without your help have no hope.
In the developing world, over 75% of the population lives on less than $2.00 a day, and more than 69 million children do not have schools to attend.
Since 2006, as we gained practical field experience, we realized existential threats denied girls the opportunity to study. Our research revealed that fewer than one in nine girls who entered the first grade continued to the seventh grade compared to one in three boys. While we removed apparent gender inequalities such as building separate gender-based toilet facilities and providing girls with sanitary napkins, cultural considerations hindered girls. In Uganda, for example, tribal preferences favor educating boys.
To continue to address gender inequity, we held radio talk shows and town hall meetings. Yet, parents argued that although school admission is free, education is not. If girls attend school, they cannot work in the fields, and parents lose the chance to earn a higher bride price. Since the HIV crisis, parents can demand more cows for their eleven and twelve-year-old daughters. We did help to change the bride price laws in Uganda; unfortunately, the law had no effect in the villages where we worked. It is clear. We need to act since, according to the United Nations, just one year's education for a girl reduces infant mortality by 5% to 10%.
We collaborated with the Georgetown University Law School's Leadership and Advocacy for Women in Africa Fellowship Program to educate women's rights lawyers to advocate for equal educational opportunities, one step in the right direction.
While the Teach Them To Fish Foundation is not first-responders, we maintain a Save The Children program and stand ready to help children displaced during times of unforeseen tragedies such as the earthquake in Nepal (2015), Typhoon Haiyan in the Philippines (2013), and the earthquake in Haiti (2010).
As we are all unpaid volunteers, 100% of the proceeds donated through our website is applied to projects for children in the form of food, clothing, shoes, school supplies, or construction and renovation of school buildings or, if so designated, to our Save The Children program which we contribute to the US Fund for UNICEF unless we are suitably positioned to provide in-field work such as we did during the famine in Cambodia, the bombings in Israel, and for the refugees fleeing Thailand during the May 2014 Thai Military Coup . We raise money separately for our administrative expenses and fundraising activities whether through our Board of Trustee Members' contributions and/or corporate sponsorship. Of course, any funds that you might designate for our administrative expenses or special projects would be greatly appreciated, too.
We also invite you to provide support for our suicide prevention and interdiction services on the Pine Ridge Indian Reservation and education opportunities, and support for Native American children in the United States.
Finally, we invite you to leave your own legacy by changing the lives of orphaned and disadvantaged children who do not have a school to attend, young girls at risk for human trafficking, Native American children, their families, and their future generations to come.
Sincerely,
L. Chase Sizemore, Director